Me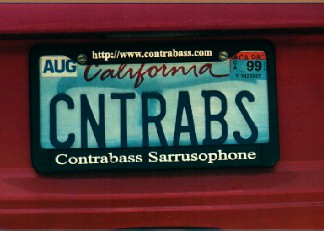 When I'm not writing patents, I like to play music, preferably as part of an ensemble like Professional Fools . Currently, I'm playing contrabass clarinets and bass sarrusophone (when I can get away with it) with the San Jose Wind Symphony, but I've played in everything from duets to full orchestras, marching bands, jazz ensembles, rock groups, pit orchestras, woodwind quintets, in nearly every style from Medieval/Renaissance to avant garde. If you're looking for someone to fill a part or join up with you in the San Francisco/San Jose area (Santa Clara county preferred) or around Bodega Bay (and there's no truth to the rumor that contrabass instruments can cause tidal waves or fault movement), please feel free to contact me.
I'm best at woodwinds (flutes, saxophones, clarinets, sarrusophones), rhythm guitar (or classical guitar), and bass guitar. I can provide a few less common tone colors, using oboe, bassoon, sarrusophones, crumhorns, recorders, bass and contrabass clarinets, soprano and alto shawm, Chapman Stick®, alto and bass flute, harpsichord, and Racketts. Most of my instruments are scattered througout the Compendium, with some of the "miscellaneous" instruments collected on this page until I can organize them better.
Note: I am

not

the famous late jazz guitarist also known as Grant Green.
---
© Copyright 1995-2004 by Grant D. Green


Ever have a moment of startling lucidity?
Awakened for an instant,
thoughts of crystal clarity?
What are you doing the rest of the time?
Just another case of temporary sanity?