Imagine an ophicleide with a double reed, or a tuba with keys like a saxophone. Voila! instant reed contrabass. The reed contrabass (aka contrabasse á anche) was developed in Italy in the 1800s as a substitute for the contrabassoon, which wasn't as refined an instrument then as it is today.

This particular horn is about 41" long, with a 10" diameter bell. There are six finger pads (for LH1-3 and RH1-3), with two keys for each little finger, five keys for the left thumb, and two for the right thumb. The lowest note on the reed contrabass is D1 (DD), below the string bass's lowest E (the lowest D on the piano).

The most interesting feature of the reed contrabass is its keywork. The tone holes are large enough that opening only one key provides sufficient venting for the note. On other woodwind instruments, the bore is shortened (to ascend the scale) by opening all tone holes below the hole for the note desired (for most notes). On the reed contrabass, one need only open one hole for each note. The keywork for the reed contrabass takes advantage of this: all of the keys (except the key for the lowest note) are normally closed. Pressing a key opens the corresponding tone hole. Thus, the reed contrabass needs only one key for each note of the scale (and two octave keys). This greatly simplifies the fingering chart: just name each key! There are no alternate fingerings or trill keys.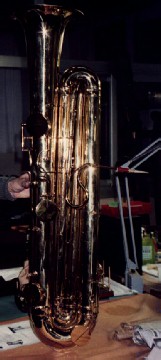 Here's another instrument, brand new
from ORSI in Milan, Italy (photographed
on location).
Here's a quick sound clip in RealAudio, just a few low notes and a few high notes. Once I get a bit more time, I'll post another sound clip or two. In the meantime, you can hear one on the CD "Acres of Clams" by the Pioneer Brass (Centaur CRC 2131), along with contrabass trombone, Eb alto saxhorn, Eb cornet, and others.

For more pictures, see the Anche Gallery.