The instrument at right is a tubax, made by renowned instrument maker Benedikt Eppelsheim /Konus of Munich, Germany (who has also created the "soprillo", a Bb saxophone pitched an octave above the Bb soprano). The Eb tubax is made to have the same range (and fingering) as an Eb contrabass saxophone (much like an Eb contrabass sarrusophone). It has a much narrower bore (also like a sarrusophone), and is made to take a bari sax mouthpiece. Paul Cohen has reviewed it in his Sept/Oct. 2000 Saxophone Journal column (he likes it), and Kermit Welch has already ordered one. Thomas Zoller apparently already has one, and has recorded a CD that includes tubax parts (see the discography): it sounds much like a contrabass sax, but subtly different - perhaps more like a contrabass sarrusophone with a single reed mouthpiece.

There are more images (image 1, image 2) that give one an idea of the size of the horn. The instrument is now apparently imported by USAHorn, who's site includes two video clips of Scott Robinson playing one.


And here is a clip (mp3) of Randy Emerick on tubax, playing Stardust (with the Jerry Fischer Orchestra, Hollywood FL, Mike Lewis, Arranger). Enjoy!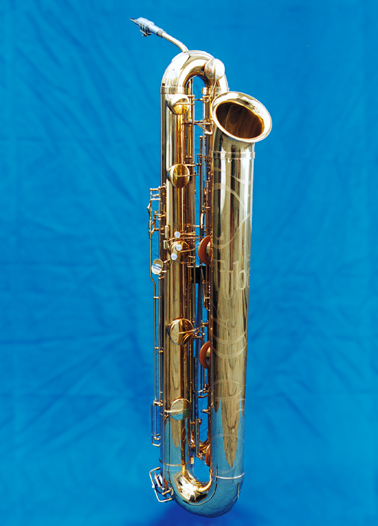 Note that the keys you see above are for the right hand: situated relatively high on the instrument, the keys are in a comfortable position for playing the instrument while seated, with the tubax resting on the floor.