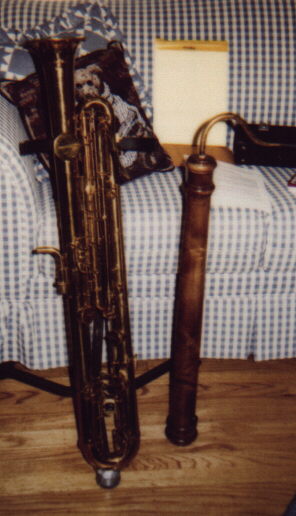 The Sordune is a Renaissance-era instrument having a double reed and a doubled-back cylindrical bore. The kortholt is similar, but has the reed inside a windcap (like a crumhorn): the sordune is played with the reed between the lips, like a curtal or dulcian. The curtal/dulcian is different in that it has a conical bore, rather than a cylindrical bore. In this picture, its the instrument on the right (on the left is a bass sarrusophone).

The authentic sordunes existing today were equipped with the Renaissance equivalent of plateau keys (a key covering each fingerhole). Modern sordunes are made without the keys: just fingerholes. Lots of fingerholes...

The sordune, like the racket and kortholt, has an extended range of fundamental pitches. It has fingerholes for all fingers and thumbs, plus two holes covered by the upper joints of the index fingers. The instruments at the Kunsthistorisches Museum in Vienna include the great bass, quint bass, bass, and tenor. The range of the great bass is to low F, an octave below the bass clef. Here's a RealAudio clip of me fumbling around on one....