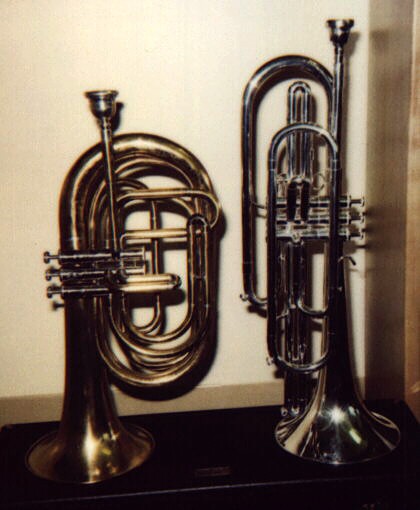 Although less common than their bass woodwind counterparts, the trumpet family has its own alto, bass and contrabass.

The Bb bass trumpet is pitched an octave below the "standard" soprano trumpet, and is shaped like a somewhat larger trumpet, with a bore slightly larger than that of the standard Bb trumpet. The sound of a bass trumpet can be difficult to distinguish from a valve trombone. Current manufacturers include Selmer/Bach and Getzen . The silver horn pictured here is a Getzen Bb bass trumpet

The contrabass trumpet shown here (the brass instrument) was made by Carl Kleinsteuber (who not only makes his own tubas, but appears on the CD "Gravity" with Howard Johnson). This contrabass trumpet is pitched in F, a fourth below the bass trumpet, and corresponds in range to the F bass tuba. When I've had more time (lots and lots of time) to practice, I'll post a sound clip here. In the meantime, you can hear it on Carl's page.